To see the Doujinshi/Anthologies I'm selling click here.

New Plushes, Jrock, Figures & More






Naruto Figure Stamps $3 each

Tsunade
Chuunin Sasuke
Curse Seal Sasuke
Itachi

**I can't promise the stamps will work, but they're still in packaging



Info: Japanese Naruto volumes 1-32 [good condition]
SOLD




Info: OFFICIAL Bandai Japanese Cosplay Naruto Vest
SOLD






Info: Naruto clear files and mini notebook
Price: $5 each for the folders + ship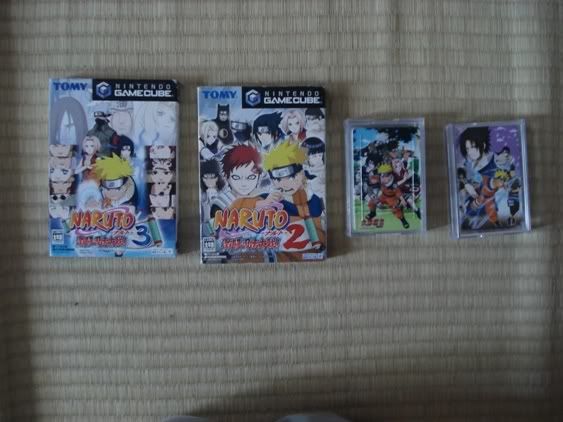 Naruto Gekitou Ninja Taisen 2 [for Gamecube]: $25 + ship [great condition, you need freeloader or a japanese GC to play it though]
Naruto Gekitou Ninja Taisen 3 [gamecube]: $25 + ship[great condition, freeloader or Japanese GC needed]
Both games for $50 shipped (if you live in continental US), $45 + ship if you live outside US
Naruto Playing Cards: $2 each + ship






Naruto Plushies; [All good condition, most still have tags]
(from left to right)
Big Fat Sasuke: $16 +ship
Small Chuunin Exam outfit Sasuke: $10 +ship {SOLD}
Naruto Kyuubi Cosplay Plush: SOLD
Shikamaru Deer Cosplay Plush: $10 +ship SOLD
Kyuubi Naruto Plush: $10 +ship
Itachi Weasel Cosplay Plush: $10 +ship {SOLD}
Kakashi Dog Cosplay Plush: $10 +ship SOLD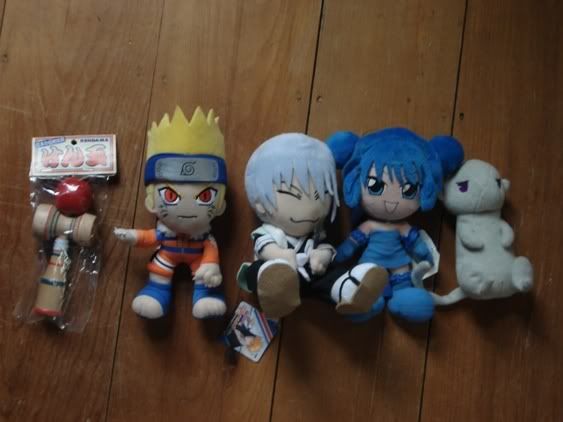 Plushes & Misc
Japanese Kendama Toy: $4
Ichimaru Gin Plush: SOLD
Tokyo Mew Mew Mint: $13
Yuki Mouse Plush: $8






J-rock Cure Magazines 6$ each
January 2005
October 2005
April 2006
May 2006





Payment and Shipping Costs

As far as payment goes, I prefer Paypal, however I will do moneyorder/check.

To find out what the shipping is, let me know what items you want and I'll calculate it. ;)



These items are very special to me, so I hope they go to loving homes. ;D

If you need to contact me, feel free to e-mail me at eightislove@gmail.com

Thank you!