To see the Doujinshi/Anthologies I'm selling click here.

English Manga

Info: English manga I have...they're all in good condition.
Price: $5 each + ship

Kodocha 1-10 (complete) $45 for set
Magic Knights RayEarth 1-4
Cardcaptors Sakura 1,2,4
Pretear 3,4
Hikaru no Go 1,2
X/1999 1
Dragon Knights 1,2
Samurai Deeper Kyo 1
Real Bout High School 1
Wolf's Rain 1

Official Japanese Naruto Shirts

Info: I got these while I was in Fukuoka, Japan at the official Naruto store. All of the shirts are in near-perfect condition except for some wrinkles. They've only been worn once or twice. They're all size large.
Price: $20 + ship.



**The blue Sasuke shirt on the right has a giant Uchiha symbol on the back.



Cosplay

Info: Naruto Akatsuki Jacket, great condition aside from wrinkles
Price: $50 + ship (come on, that's cheaper than ebay!)






Clothes


Info: Pilot pants I got in a French boutique on St. Barts. Worn like...once. I think they're size 10-11. I love 'em but they're too big for me. :(
Price: $30





Info: Chinese shirt from Hot Topic (left) Worn once or twice, size medium.
French anime shirt (right) From that French boutique the pilot pants are from. Never worn. Size small.
Price: $15 each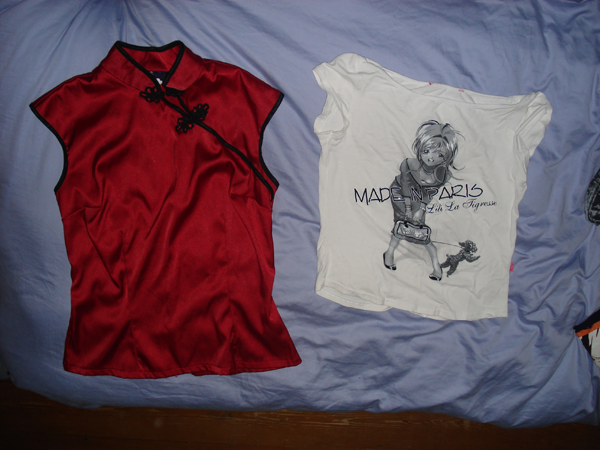 Info: Grey shirt (left) Never worn, size medium.
Official US Naruto shirt (right) worn a few times, men's medium
Price: $10 each





Info: Pants from Hot Topic...the pink ones (left) were worn a little while the red & black ones were worn once or twice. Both are size 11.
Price: $25



New Plushes, Jrock, Figures & More


Naruto Figure Stamps $1 each

Tsunade
Chuunin Sasuke
Curse Seal Sasuke
Itachi

**I can't promise the stamps will work, but they're still in packaging







Info: Naruto clear files and mini notebook
Price: $5 each for the folders + ship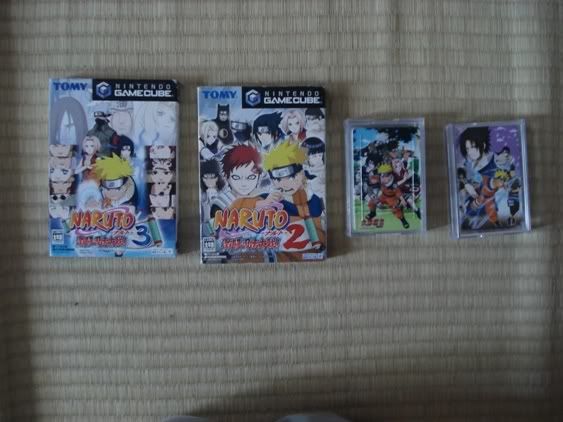 Naruto Gekitou Ninja Taisen 2 [for Gamecube]: $25 + ship [great condition, you need freeloader or a japanese GC to play it though]
Naruto Gekitou Ninja Taisen 3 [gamecube]: $25 + ship[great condition, freeloader or Japanese GC needed]
Both games for $50 shipped (if you live in continental US), $45 + ship if you live outside US
Naruto Playing Cards: $2 each + ship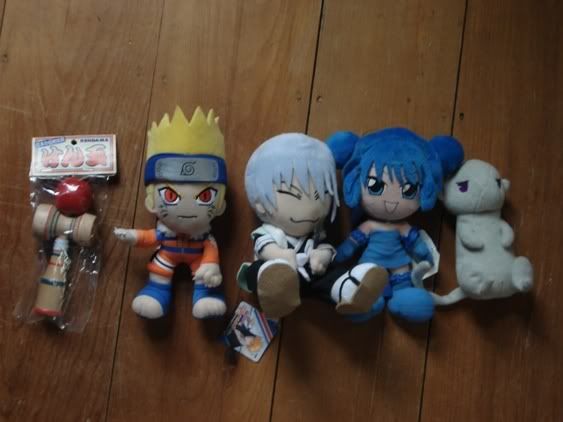 Plushes & Misc
Japanese Kendama Toy: $4
Ichimaru Gin Plush: SOLD
Tokyo Mew Mew Mint: $13
Yuki Mouse Plush: $8






J-rock Cure Magazines 6$ each
January 2005
October 2005
April 2006
May 2006





Payment and Shipping Costs

As far as payment goes, I prefer Paypal, however I will do moneyorder/check.

To find out what the shipping is, let me know what items you want and I'll calculate it. ;) I'm not going to rip you off and make a profit off shipping. You're just going to pay what it actually costs to get the item to your house. :3



These items are very special to me, so I hope they go to loving homes. ;D

If you need to contact me with questions, feel free to e-mail me at eightislove@gmail.com

Thank you!